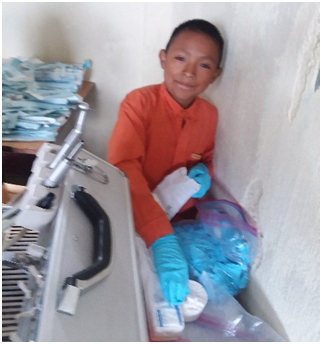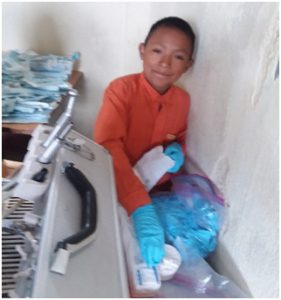 I met Santos when we found ourselves in Guatemala over a Christmas holiday. At 10 years of age he'd already been living on the streets for several years. He had a mother and a father, but resources were scarce and, as it is for so many children in Mexico, it was simply easier for him to live away from home.
It was clear to see that he had a quick mind and a kind heart, despite the circumstances. We worked through Agentes de Cambio who graciously offered us the temporary use of their facility. After we treated Santos in our makeshift clinic he asked to help. This is a picture of him in sterile gloves helping us sort supplies.
Later, we went looking for him to see if he wanted to have lunch with us, but he was nowhere to be found. The next morning we heard a disturbance outside in the alley and went to investigate. There was Santos digging through the dumpster. Quickly we encouraged him to come out of there, that we would give him a hot meal. Then, we discovered what he really was doing in the dumpster. It was Christmas, and his brothers and sisters, as well as the children at the mission home, would not be receiving any gifts. He had been systematically, for months, collecting toys, cleaning them up, repairing them, and carefully preparing them to be given to other children. Most are not aware of this, but you can sponsor children like Santos, help them go to school (which isn't free in Mexico). As we got to know this precious soul we made the offer to sponsor him through the DHC.